CONNECTED. TOGETHER. INTERACTIVE
Digital planning for
everyone


within

your

organisation!

Many organisations struggle to get the Enterprise Architecture function to deliver clear value, but with with next-insight you get access to the leading technology and practice that offer access to rapid results to help you mature the processes of architecture and planning. Available as a cloud-native solution for all employees. With strong visuals you get help to communicate and aggregate information. With online integrations, you get help to master the eco-system of supporting tools. With Next-Insight we can accelerate your digital journey. The platform will help you in digitalizing your architecture success!
CONNECTED. TOGETHER. INTERACTIVE
Your digital service to master
Strategic

Planning, Business Alignment and Enterprise Architecture Management

In today's world, it is impossible to think about mastering an information model, solution architectures, metadata, without having help from leading technology. How to draft a simple solution design? How to model a value stream or a simple business process. With Next-Insight, you will get cutting-edge technology, developed as an cloud-native responsible SaaS offering. The different architecture disciplines all provide a synergies with a leading enterprise architecture practice. With Next-Insight you get both perspectives in one solution. Architecture made simple!
Business Continuity Planning
Next-Insight offers a solution to BIA and BCP. The module for BIA (Business Impact Analysis) is tailored to the categorisation and analysis of business operations towards contingency planning. The BCP (Business Continuity Planning) is supporting the BIA to enable testing and exercises of recovery of sites, systems or solution areas to improve the overall ability to understand, document and recover business services. The solution has an extensive focus on learning to prepare for the unknown event with information brought up-to date. Forget old word documents shared in on a file-drive, welcome to the digital assets with living architecture - governed by Next-Insight.
Portfolio Management
Next-Insight offers portfolio governance and a board management solution to drive portfolio governance. Manage your IT development portfolio through collaboration and planning. Integrate with Jira/scrum tools and provide management views to align with strategy and key focus areas. We believe that by coupling architecture and portfolio management, you gain a unified approach to understand the motivation layer of every change, and every transformation. Next-Insight offers integration to PMO tools and financial systems to provide governance and transparency to plans and outcomes. Next-Insight brings your strategy from PowerPoint to actionable roadmaps making board management a digital experience.
IT Cost Management
Next-Insight offers a solution to TBM (Technology Business Management) out of the box. There is no need to buy one tool for EAM and another tool for TBM - with Next-Insight you get it all combined. Get an overview to your contracts, your cost pools and how this link to your IT Landscape. With TBM you have access to view cost agreements from IT perspective, business perspective and finance perspective - like a cube, more view to the same set of data supporting improved behaviour to manage IT cost.
Process Management
Next-Insight offers you the modern web solution to manage all of your process management information directly from the browser in a simple and digital form. If you work with process excellence or digitalisation, then Next-Insight offers you the flexible platform for managing all of your process management and BPMN in the portal. There is no need to buy expensive BPMN clients since the portal supports online diagrams with linkage to EAM. The platform supports search and diagrams, how to document processes and improve your business processes including management of relationships to systems, owners and offerings. If you strive to get an overview of your business processes, start with Next-Insight to provide traceability to process improvements within a learning organisation.
IT Management
Next-Insight offers you the intuitive overview to your IT landscape and management of IT. Planning and collaboration has never been so easy. With integrations to ServiceNow CMDB, Cherwell and most common CMDB tools, our modern platform provides the connected insight to cost of services, roadmaps and planning; helping you to be in control of your IT to enable business change, strategy and development. Lifecycle management and technology service management are key solutions within Next-Insight, offering you a modern web solution to manage your business architecture and enterprise architecture all in one portal. Accelerate your consolidation and maturity with Next-Insight.
Governance, Risk & Compliance
Next-Insight offers you the modern web solution to manage your risk and compliance in a simple and digital way. With Next-Insight risk & compliance becomes an easy task; interactive and living. We believe that compliance is more than controls and excel, it is about managing the governance and risk of an organisation to mitigate threats and documenting compliance. Our platform offers simplicity to the complex challenge of documenting risk and compliance like GDRP, annual risk assessments, vendor assessments. Etc. Avoid penalties, be in control of your governance and compliance, manage it simpler with Next-Insight.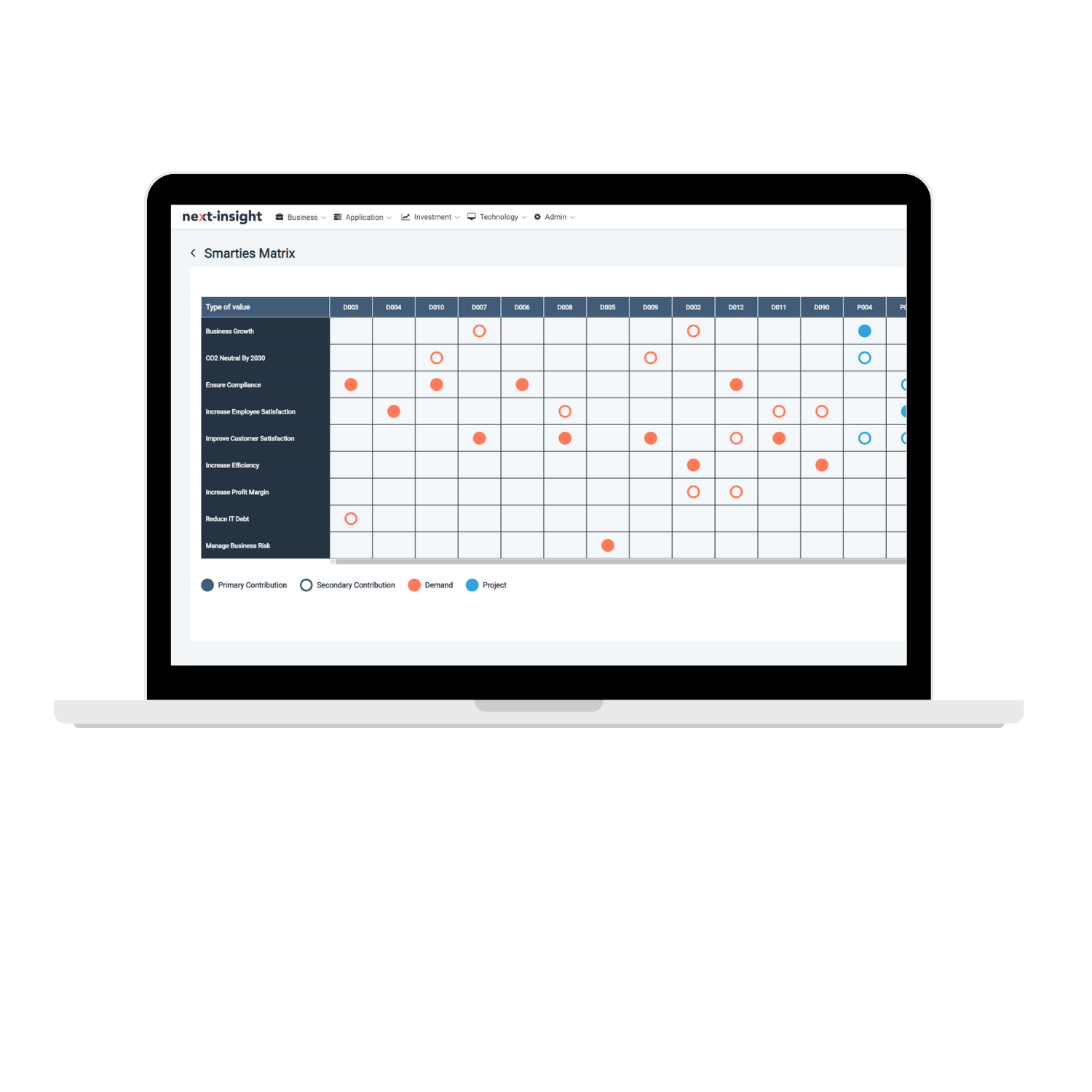 CONNECTED.TOGETHER.INTERACTIVE
We deliver solutions
to
80%

of the Nordic bank sector

Interested? We'd love to hear from you!
Book a meeting
CONNECTED.TOGETHER.INTERACTIVE
Consolidate your
data

to gain better insights

Get control over your company's processes, governance, IT Roadmap and project portfolio. We focus on consolidating and exposing key data to support your company's productivity.
Read more
Do you lack the visibility to understand you processes and their costs?
Gain visibility and maintain high quality in your processes with Next-Insight. We value precise and connected data that helps you lower your spend, optimize workflows and manage the company's resources through role-based dashboards, KPIs and customized metrics.
Find it challenging to manage and evalute projects to ensure alignment with the company's strategic objectives?
Next-Insight can analyze which projects that deliver strategic value, give overview of the governance and financial structure, while giving information on key resources that are needed to maintain delivery. Next-Insight gives you the necessary information when making critical decisions.
Do you struggle to find overview and the linkage between different key areas of the business?
With Next-Insight you will gain the necessary insight into you IT Roadmap and enable better consolidation of your data to find the missing links to better the understanding of business needs'. By analyzing and linking data we can help you capture, manage and assess the different functions that your business consists of.
Do you struggle with manual processes and metrics to handle GRC?
Next-Insight offers automated solution to handle the company's governance, risk and compliance processes. The solution includes online risk-assessements that can be used to analyze key risks and give information on how to act on them. The platform can do Article 30 reports automatically and inform on which actions need to be handled to secure Personally Identifiable Information.